Robin Hood® Quick Oats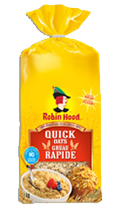 Robin Hood® Quick Oats
These rolled oats have thinner flakes that let them cook up quicker than large flakes oats, giving them a nice and smooth texture.

Robin Hood Quick Oats are made with 100% whole grains, are natural with no preservatives, and are a source of fibre and iron.

They're great for baking and breakfast!
You need:
| | | |
| --- | --- | --- |
| | 1 serving | 4 servings |
| Water | ¾ cup (175 mL) | 2 1/3 cups (575 mL) |
| Salt (optional) | Pinch | ¾ tsp (4 mL) |
| Oats | 1/3 cup (75 mL) | 1 1/3 cups (325 mL) |
Stovetop
Gradually stir oats into boiling, salted water.
Cook for 3 minutes, stir occasionally.
Cover, remove from heat.
Let stand a few minutes, then enjoy.
Note: No need to increase cooking time when increasing servings.
Microwave
For 1 serving:
In a large microwave-safe bowl, gradually stir oats into cold, salted water.
Heat uncovered on high power for 1 ½ - 2 minutes.
Stir after 1 minute.
Stir again; let stand 1 minute, then enjoy.
Note: for 4 servings, heat uncovered on high power for 3 minutes.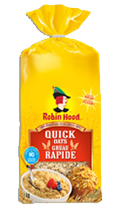 Storage
Store in a clean, dry area at room temperature.

The shelf life of this product is 9 months from the date of manufacture.
---
Availability
Western Canada: 1 kg, 2.5kg*
Ontario: 1 kg, 2.5kg*
Quebec: 1 kg, 2.5kg*
Maritimes: 1 kg, 2.5kg*
Newfoundland: 1 kg, 2.5kg*

* limited availability
---
What is a manufacturing code, and how do i read it?
The manufacturing code is the date the product was made. It should look something like this:
13 365 548 0321 780


The first number represents the year it was made. For instance, the 13 in our example code means it was made in 2013. A number 12 would mean it was made in 2012, and so on.
The next three numbers represent the day of the year the product was made. In our example, the 365 (or three hundred and sixty-fifth day of the year) is December 31.
The following sets of numbers are further plant codes (i.e. plant number, time of production, etc.) and have nothing to do with the date of manufacture.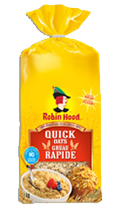 Nutrition Facts

Serving Size 1/3 cup (30 g)
Amount
% Daily Value
Calories 110
Fat 2 g
3
Saturated 0.5 g
2
+ Trans 0 g
Cholesterol 0 mg
0
Sodium 3 mg
0
Carbohydrate 20 g
7
Fibre 2 g
9
Sugars 0 g
Protein 5 g
Vitamin A
0
Vitamin C
0
Calcium
2
Iron
8