Robin Hood®Just Enough Chocolate Chip Cookie Mix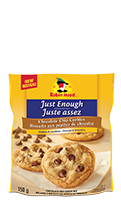 Robin Hood®Just Enough Chocolate Chip Cookie Mix
Sometimes, just a few cookies is just what you need. Bake up just the right amount of homemade cookies with new Just Enough Chocolate Chip Cookie Mix.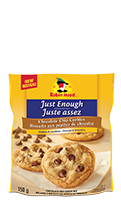 Storage
Store in a clean, dry area at room temperature.
The shelf life of this product is 18 months from the date of manufacture.

---
Availability
Western Canada: 150 g pouch
Ontario: 150 g pouch
Quebec: 150 g pouch
Maritimes: 150 g pouch
Newfoundland: 150 g pouch

---
What is a manufacturing code, and how do i read it?
The manufacturing code is the date the product was made. It should look something like this:
4 134 501 04 0021

The first number represents the year it was made. For instance, the 4 in our example code means it was made in 2014. A number 3 would mean it was made in 2013, and so on.
The next three numbers represent the day of the year the product was made. In our example, the 134 (or one hundred thirty fourth day of the year) is May 14.
The following sets of numbers are further plant codes (i.e. plant number, line number, time of production, etc.) and have nothing to do with the date of manufacture.
What is a Best Before code, and how do I read it?
The Best Before code should appear in the designated area on the top of the Quick Bread carton.
It should look like this:
YYYY MM DD Y DDD PPP LL HHHH
where the first 8 characters will represent the best before information and the following sets of numbers/letters are further plant related codes (plant number, line number, time of production, etc)
The best before information will be the first 8 characters and will read:
YYYY = year = 2015
MM = month = NO
DD = day = 14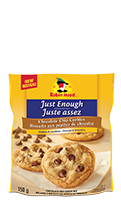 Nutrition Facts

Serving Size 1/6 package (25g)
Amount
% Daily Value
Calories 100
Fat 2 g
3
Saturated 1 g
+ Trans 0 g
5
Cholesterol 0 mg
0
Sodium 105 mg
4
Carbohydrates 20 g
7
Fibre 1 g
2
Sugars 12 g
Protein 1 g
Vitamin A
0
Vitamin C
0
Calcium
0
Iron
6