Robin Hood® Gluten Free All Purpose Flour Blend
(NEW FORMULA WITH XANTHAN GUM)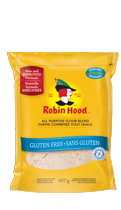 Robin Hood® Gluten Free All Purpose Flour Blend
(NEW FORMULA WITH XANTHAN GUM)
You wanted better results from your gluten free baking, and we listened. Robin Hood Gluten Free All Purpose Flour Blend is now made with xanthan gum. What is xanthan gum? It's a plant-based thickener and stabilizer that's commonly added to many of the foods you buy, including ice cream, jam, jelly, salad dressing, pudding, yogurt and, of course, baked goods. It's an excellent replacement for gluten, as it creates the soft, chewy texture that people love in baking, but without any gritty texture.

Try our new formula the next time you bake. Your family will love the results.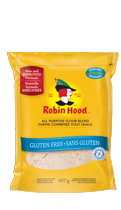 Storage
Store in a clean, dry area at room temperature.

The shelf life of this product is 12 months from the date of manufacture.
---
Availability
Western Canada: 907 g resealable bag
Ontario: 907 g resealable bag
Quebec: 907 g resealable bag
Maritimes: 907 g resealable bag
Newfoundland: 907 g resealable bag
---
What is a manufacturing code, and how do i read it?
The manufacturing code is the date the product was made. It should look something like this:
13 365 548 15:30 5439 or 3 365 628A 1438


The first one or two numbers represent the year it was made. For instance, the 13 or 3 in our example codes means it was made in 2013. A number 12 or 2 would mean it was made in 2012, and so on.
The next three numbers represent the day of the year the product was made. In our example, the 365 (or three hundred and sixty-fifth day of the year) is December 31.
The following sets of numbers are further plant codes (i.e. plant number, time of production, etc.) and have nothing to do with the date of manufacture.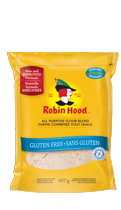 Substitutions
Note: the character of your recipe will change.

Original All Purpose Flour
1 cup (250 mL) of Robin Hood® Gluten Free All Purpose Flour Blend = 1 cup (250 mL) of Robin Hood Original All Purpose Flour

Whole Wheat All Purpose Flour
1 cup (250 mL) of Robin Hood Gluten Free All Purpose Flour Blend = 1 cup (250 mL) of Robin Hood Whole Wheat All Purpose Flour

Nutri Flour Blend® Tastes like White and Omega-3 & Fibre
1 cup (250 mL) of Robin Hood Gluten Free All Purpose Flour Blend = 1 cup (250 mL) of Robin Hood Nutri Flour Blend Tastes like White or Omega-3 & Fibre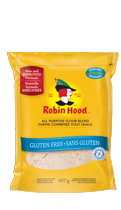 Nutrition Facts

Serving Size 3 Tbsp (26g)
Amount
% Daily Value
Calories 90
Fat 0 g
0
Saturated 0 g
0
+ Trans 0 g
Cholesterol 0 mg
0
Sodium 5 mg
0
Carbohydrate 21 g
7
Fibre 0 g
0
Sugars 0 g
Protein 2 g
Vitamin A
0
Vitamin C
0
Calcium
0
Iron
2