Robin Hood® Best for Blending Flour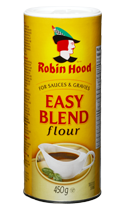 Robin Hood® Best for Blending Flour
Milled to provide a granular flour that blends smoothly and easily into wet or dry ingredients, it's great for thickening a sauce or gravy. A convenient shaker pack means your flour will always be close at hand.
Recommended for making
Sauces and gravies.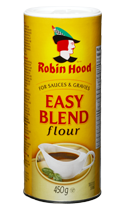 Storage
Store in a clean, dry area at room temperature.

The shelf life of this product is 15 months from the date of manufacture.
---
Availability
Western Canada: 450 g
Ontario: 450 g
Quebec: 450 g*
Maritimes: 450 g
Newfoundland: 450 g

* limited availability
---
What is a manufacturing code, and how do i read it?
The manufacturing code is the date the product was made. It should look something like this:
13 365 548 15:30 5439 or 3 365 628A 1438


The first one or two numbers represent the year it was made. For instance, the 13 or 3 in our example codes means it was made in 2013. A number 12 or 2 would mean it was made in 2012, and so on.
The next three numbers represent the day of the year the product was made. In our example, the 365 (or three hundred and sixty-fifth day of the year) is December 31.
The following sets of numbers are further plant codes (i.e. plant number, time of production, etc.) and have nothing to do with the date of manufacture.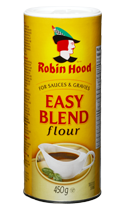 Nutrition Facts

Serving Size 1/4 cup (30 g)
Amount
% Daily Value
Calories 100
Fat 0.3 g
0
Saturated 0.1 g
0
+ Trans 0 g
Cholesterol 0 mg
0
Sodium 1 mg
0
Carbohydrate 22 g
7
Fibre 1 g
3
Sugars 0 g
Protein 4 g
Vitamin A
0
Vitamin C
0
Calcium
0
Iron
10
Thiamine
15
Riboflavin
8
Niacin
10
Folate
20